I like microstates.  The European ones are in beautiful locations, there's always some notable things you won't find elsewhere, each one is there because of some interesting history and there's always a really curious mix of people drawn to them, for various reasons (which may or may not be tax related).
Liechtenstein – a double-landlocked nation – is one of those places and, combined with a visit to Zurich, makes for an interesting couple of days.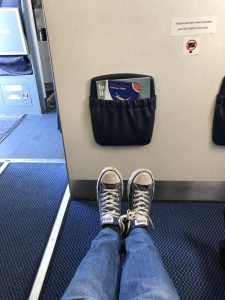 A quick travel tip at this point: if you're based in London or the counties to the south and east of it, consider a flight from London City airport to the major Swiss city of Zurich.  The combination of a small and efficient airport that has later check-in/gate times with smaller, sometimes relatively tiny aircraft makes for a different experience to the norm.  BA fly there regularly and if you're able to sit up front, always go for row 2 on the right hand side.  There is no row 1 which as you can see is amazing for legroom.
The capital city of Vaduz (one for the pub quiz, perhaps?) looks like many small size cities you'll find in this mountainous region, with the notable additional focus on private banking, company headquarters, other financial institutions and legal firms.
As it was a Christmas-time visit, the main street was nicely lit and included all the usual festive attractions you'd find in this part of Europe.  That said, it seemed to be a fairly sleepy city compared to other European capitals, probably because of it not being a hot tourist destination and many people being at work, inside or outside of the country.
Two big, related surprises were the quality of the dining… and the choice of Liechtenstein wine.
This trip started and finished in Zurich, with the journeys to and from Vaduz courtesy of an efficient and very picturesque train journey through the mountains and around the lakes.   Zurich had a lot of Christmas going on, including extensive Christmas markets (including one at the main railway station) and the trees and gingerbread house displays, some of the best of which can be found at the Baur Au Lac hotel, with its tree lights switch-on in the park outside accompanied by mulled wine and biscuits being a well-known local attraction.